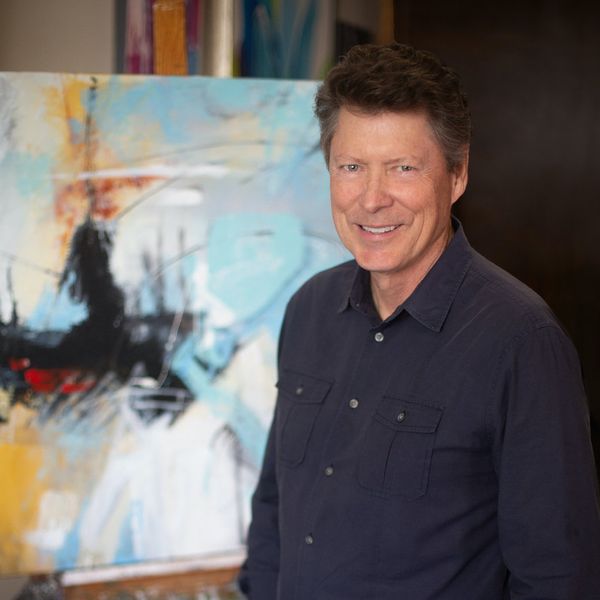 William Mangum
Simply put, William Mangum is an artist, designer, author, publisher, keynote speaker, and entrepreneur with a broad-reaching, ever-evolving career that spans 40 years. He has traveled the world on painting sojourns to capture the compelling beauty of England, the Greek Isles, Italy, Austria, Switzerland, and other destinations. Mangum's commanding artistic hand has also recorded the diverse charms of the United States in watercolor landscapes. His paintings so vividly capture the allure of icons and hidden gems that they've earned him countless fans and collectors.
Mangum's creations have been sold worldwide and licensed in a variety of ways. His work has been featured in eight books, two films, and a one-person exhibition at the North Carolina Museum of History. His Artist Inspired Home Collections includes categories such as rug, lighting, and accent furniture.
His artwork has evolved from traditional and transitional into contemporary and abstract forms. Diverse paintings show the breadth of his talents. Mangum has exhibited work across the United States and abroad. His paintings have been shown by notable museums and art organizations, including the National Arts Club, the Society of Illustrators, Allied Artists of America, the Salmagundi Club and the Knickerbocker Artists League all in New York. He has participated or exhibited in the Aqueous Open in Louisville, the New Realists show in Chicago, the Butler Art Institute in Youngstown Ohio, and the International Watercolor Exhibition in London.
Mangum has used his talent and work for philanthropic ends as well. He created specific images to directly aid social causes including Greensboro Urban Ministry, Hospice, United Way, Mental Greensboro Health Society, Greensboro Ballet, The Scholastic Art Awards, and many others. The contribution of art and personal involvement in these causes has raised millions of dollars for non-profit agencies throughout the United States. For instance, now in its thirty-third year, The Honor Card program aids North Carolina's needy and homeless community. With the support of the Wells Fargo Foundation, The Honor Card program has raised over $8.5 million dollars for agencies to give hope, encouragement and support to the homeless and needy.