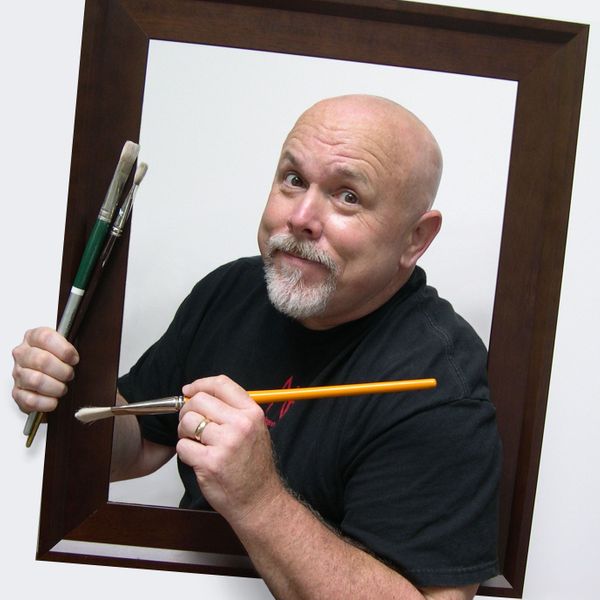 Tim Bowers
The art of Tim Bowers – imagery that often includes animals, music, family and faith – is full of warmth, whimsy and humor. Growing up in a small town, Bowers saw these qualities in everyday life. His grandparents' house was home to a squirrel monkey, an African grey parrot, dogs, cats, songbirds, tropical fish and a yard full of chickens and ponies. They even allowed a pet pig into the house. Tim's imagination took flight in a vivid world that nourished his perspective of life.
Inspired by nature and humor, Tim's childhood interest in art grew into a career. His current artwork ranges from detailed realism to stylized folk illustrated through creative use of color and texture.
"If I can create something that is uplifting, inspiring or beautiful, then I've hit the sweet spot. And, if it makes me laugh, that's icing on the cake!"
His career started in advertising art. Bowers moved from Ohio to Kansas City and worked at Hallmark. He became an original member of Shoebox Greetings, the biggest product line in the company's history. Bowers left Hallmark after five years, returned to his native Ohio, and focused on art licensing and illustrating children's books. His art has been licensed on a variety of products and he has illustrated more than 40 children's books, including two New York Times best-selling books. Bowers has teamed up with celebrity authors, including Kristi Yamaguchi, Neil Sedaka and Kenny Loggins. Tim, an award-winning fine artist, creates finely detailed miniature paintings that usually include his whimsical animal characters.
Bowers and his wife have three grown daughters and a son, and are also proud grandparents.