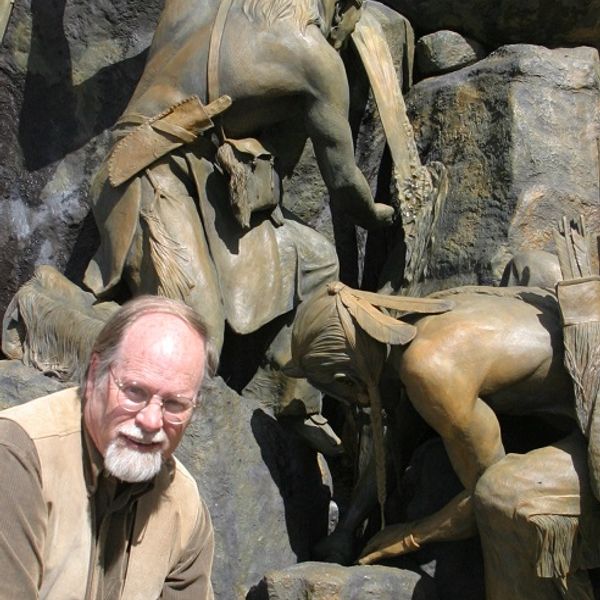 Nicholas Wilson
Nicholas Wilson's gouache paintings depict his unique style of texture and reflect a sense of whimsy. His artwork has been exhibited in numerous galleries including Trailside Gallery (Scottsdale & Jackson Hole); Settler's West, Tucson; Carson Gallery, Denver, CO; Gallery of the West (Sedona & Jackson Hole); K. Newby Gallery & Sculpture Garden, Tubac (current representation); Diana Madaras Gallery, Tucson (current representation) and are in permanent collections at the Booth Western Art Museum and the Cowboy Hall of Fame.
His art career has spanned the gamut from serving as curator of exhibits at the Arizona-Sonora Desert Museum in the Seventies to painting a 16,250 square-foot mural in the Eighties at the Jungle World Exhibit in the Bronx Zoo, New York. Wilson's monumental bronze sculpture commissions include "The Wildcat Family," an 11.5-foot sculpture at the University of Arizona, Tucson, and the "Natural Flow," a 14-foot sculpture at the Booth Western Art Museum, Cartersville, Georgia. In 2016, Mr. Wilson completed a bronze monument commission for the Hamilton County Fallen Firefighter's Memorial in Noblesville, Indiana.
Further, Wilson's wood engravings are exhibited in England, Berlin, and Denmark. His copperplate etchings and wood engravings are stored in the permanent collection at the Smithsonian in Washington, D.C. and the Leigh Yawkey Art Museum in Wausau, Wisconsin. Mr. Wilson's etching "Empty Nest" won first place and the Purchase Award at the Modesto Art Museum in 2011.
Art visitors to Arizona may encounter Wilson's Mt. Lion logo created for the AZ-Sonora Desert Museum in 1992, or view the "The Wildcat Family" bronze monument on the University of Arizona campus in Tucson.