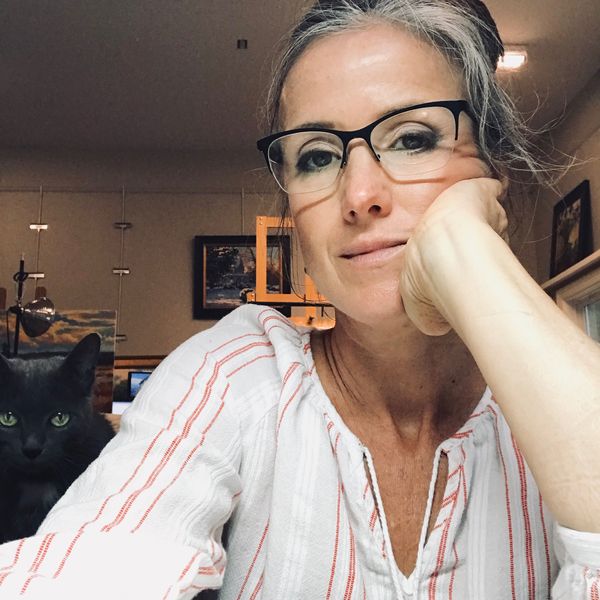 Jennifer Young
"Painting is the language I use to express my reverence for the beauty of the natural world," Jennifer Young says. "The delicacy of a flower, the power of the ocean waves, the brilliance of a sunset; all are awe-inspiring and represent some of our greatest gifts in this life, worthy of celebrating and protecting."
Young, a longtime Virginia resident who now resides in Ashland, creates vibrant oil paintings of the European and American landscapes. Formally trained in painting and art history, Young traveled to Europe where she was particularly drawn to the painters of the early Renaissance. Young sought to incorporate the emotional impact, drama and theatricality of Renaissance paintings into her own work. Early in her career, Jennifer's expressive, figurative paintings garnered gallery and museum shows in the United States, including the Hofstra Museum and Purdue University.
Young's father died from pancreatic cancer. Subsequent introspection led to her shift from painting large moody figurative works to exploring landscapes by painting outdoors en plein air. Young says, "I found myself wanting more and more to create in a way that was personally more life-affirming; and the act of getting out of the studio to paint directly from nature was in the beginning a way for me to lift my own spirits."
She further studied the French Impressionist paintings by Monet, Renoir, and Sisley, and also drew inspiration from the American Impressionist movement. She studied with contemporary plein air masters around the country.
The direct experience of immersing herself in nature to paint benefits her work in ways that studio painting alone cannot. Field work inspires spontaneity. Her studio work offers time and space to more intentionally develop her art into a fully realized expression of her experiences and emotions.
Young's painting career spans more than 20 years and includes numerous U.S. exhibitions. Her work has been collected internationally by both private and corporate collectors, including Westminster Canterbury Retirement Community, Sheltering Arms Hospital, and Frances Mayes' Tuscan Sun Wines. She enjoys participating in plein air festivals and competitions, and spending time at home with her husband and young daughter.